Looks like Russian River's Pliny the Elder won't be leading for the 9th year in a row. —Ali Farhat, Editor, BI
A new king of beers has been crowned in Zymurgy magazine's 15th annual Best Beers in America survey. Conducted by the American Homebrewers Association, the competition awarded Bell's Brewery's Two Hearted Ale first place, knocking reigning champ Pliny the Elder from Russian River Brewing Company out of the top spot for the first time in eight years, reports Brewers Association. Bell's describes its winning IPA as "bursting with hop aromas ranging from pine to grapefruit." Here are the beers that made the top 10 list:
1. Bell's Two Hearted Ale
2. Russian River Pliny the Elder
3. Founders Breakfast Stout
4. Three Floyds Zombie Dust
5. Bell's Hopslam
6. (tie) Founders KBS (Kentucky Breakfast Stout)
6. (tie) The Alchemist Heady Topper
8. (tie) Deschutes Fresh Squeezed IPA
8. (tie) Sierra Nevada Celebration
10. Ballast Point Sculpin IPA

Check out the Brewers Association for a full list of brewery and beer portfolio winners.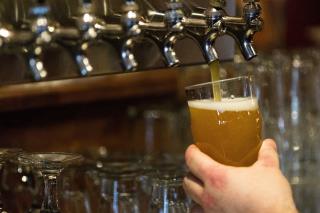 A bartender pours a glass of Bell's beer at Bell's Eccentric Cafe on Monday, March 21, 2016 in Kalamazoo, Mich. (Bryan Bennett/Kalamazoo Gazette-MLive Media Group via AP)
Andrew Koehring, left, and Ryan Sherman, right, of Bell's Brewery serve beer samples during the 36th Annual American Homebrewers Assocation National Homebrewers Conference at DeVos Place in Grand Rapids,... (AP Photo/The Grand Rapids Press, Zach Gibson)